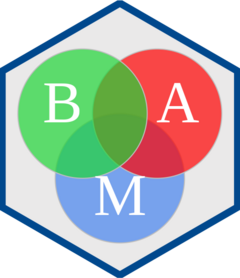 csim2pam: Converts community simulation to a Presence Absence Matrix (PAM)
Source:
R/csim2pam.R
csim2pam.Rd
Converts community simulation object into a Presence Absence Matrices (PAM) for a given simulation steps.
Arguments
community_sim

An object of class community_bam.

which_steps

Steps in the simulation object to be converted into a PAM
Value
An object of class pam; it contains five slots. 1) pams: a list of sparse matrices with Presence-Absence information (PAMs). 2) which_steps: time steps corresponding to each PAM. 3) sp_names: a vector of species names. 4) the grid area used in the simulation. 5) Non NA cell (pixel) IDs.
Details
For details about the object community_sim see community_sim
Examples
# \donttest{




lagos_path

 

<-

 system.file

(

"extdata/conejos"

,
                          package 

=

 

"bamm"

)




enm_path

 

<-

 list.files

(

lagos_path

,
                       pattern 

=

 

".tif"

,
                       full.names 

=

 

TRUE

)

[

seq

(

1

,

10

)

]




en_models

 

<-

 

raster

::

stack

(

enm_path

)




ngbs_vect

 

<-

 sample

(

1

:

2

,replace 

=

 

TRUE

,
                    size 

=

 

raster

::

nlayers

(

en_models

)

)




init_coords

 

<-

 read.csv

(

file.path

(

lagos_path

,
                                  

"lagos_initit.csv"

)

)

[

seq

(

1

,

10

)

,

]




nsteps

 

<-

 

10




sdm_comm

 

<-

 

bamm

::

community_sim

(

en_models 

=

 

en_models

,
                               ngbs_vect 

=

 

ngbs_vect

,
                               init_coords 

=

 

init_coords

,
                               nsteps 

=

 

nsteps

,
                               threshold 

=

 

0.1

)




#>

 
  |                                                                            
  |                                                                      |   0%
  |                                                                            
  |                                                                      |   0%
  |                                                                            
  |======                                                                |   9%
  |                                                                            
  |=============                                                         |  18%
  |                                                                            
  |===================                                                   |  27%
  |                                                                            
  |=========================                                             |  36%
  |                                                                            
  |================================                                      |  45%
  |                                                                            
  |======================================                                |  55%
  |                                                                            
  |=============================================                         |  64%
  |                                                                            
  |===================================================                   |  73%
  |                                                                            
  |=========================================================             |  82%
  |                                                                            
  |================================================================      |  91%
  |                                                                            
  |======================================================================| 100%
  |                                                                            
  |=======                                                               |  10%
  |                                                                            
  |                                                                      |   0%
  |                                                                            
  |======                                                                |   9%
  |                                                                            
  |=============                                                         |  18%
  |                                                                            
  |===================                                                   |  27%
  |                                                                            
  |=========================                                             |  36%
  |                                                                            
  |================================                                      |  45%
  |                                                                            
  |======================================                                |  55%
  |                                                                            
  |=============================================                         |  64%
  |                                                                            
  |===================================================                   |  73%
  |                                                                            
  |=========================================================             |  82%
  |                                                                            
  |================================================================      |  91%
  |                                                                            
  |======================================================================| 100%
  |                                                                            
  |==============                                                        |  20%
  |                                                                            
  |                                                                      |   0%
  |                                                                            
  |======                                                                |   9%
  |                                                                            
  |=============                                                         |  18%
  |                                                                            
  |===================                                                   |  27%
  |                                                                            
  |=========================                                             |  36%
  |                                                                            
  |================================                                      |  45%
  |                                                                            
  |======================================                                |  55%
  |                                                                            
  |=============================================                         |  64%
  |                                                                            
  |===================================================                   |  73%
  |                                                                            
  |=========================================================             |  82%
  |                                                                            
  |================================================================      |  91%
  |                                                                            
  |======================================================================| 100%
  |                                                                            
  |=====================                                                 |  30%
  |                                                                            
  |                                                                      |   0%
  |                                                                            
  |======                                                                |   9%
  |                                                                            
  |=============                                                         |  18%
  |                                                                            
  |===================                                                   |  27%
  |                                                                            
  |=========================                                             |  36%
  |                                                                            
  |================================                                      |  45%
  |                                                                            
  |======================================                                |  55%
  |                                                                            
  |=============================================                         |  64%
  |                                                                            
  |===================================================                   |  73%
  |                                                                            
  |=========================================================             |  82%
  |                                                                            
  |================================================================      |  91%
  |                                                                            
  |======================================================================| 100%
  |                                                                            
  |============================                                          |  40%
  |                                                                            
  |                                                                      |   0%
  |                                                                            
  |======                                                                |   9%
  |                                                                            
  |=============                                                         |  18%
  |                                                                            
  |===================                                                   |  27%
  |                                                                            
  |=========================                                             |  36%
  |                                                                            
  |================================                                      |  45%
  |                                                                            
  |======================================                                |  55%
  |                                                                            
  |=============================================                         |  64%
  |                                                                            
  |===================================================                   |  73%
  |                                                                            
  |=========================================================             |  82%
  |                                                                            
  |================================================================      |  91%
  |                                                                            
  |======================================================================| 100%
  |                                                                            
  |===================================                                   |  50%
  |                                                                            
  |                                                                      |   0%
  |                                                                            
  |======                                                                |   9%
  |                                                                            
  |=============                                                         |  18%
  |                                                                            
  |===================                                                   |  27%
  |                                                                            
  |=========================                                             |  36%
  |                                                                            
  |================================                                      |  45%
  |                                                                            
  |======================================                                |  55%
  |                                                                            
  |=============================================                         |  64%
  |                                                                            
  |===================================================                   |  73%
  |                                                                            
  |=========================================================             |  82%
  |                                                                            
  |================================================================      |  91%
  |                                                                            
  |======================================================================| 100%
  |                                                                            
  |==========================================                            |  60%
  |                                                                            
  |                                                                      |   0%
  |                                                                            
  |======                                                                |   9%
  |                                                                            
  |=============                                                         |  18%
  |                                                                            
  |===================                                                   |  27%
  |                                                                            
  |=========================                                             |  36%
  |                                                                            
  |================================                                      |  45%
  |                                                                            
  |======================================                                |  55%
  |                                                                            
  |=============================================                         |  64%
  |                                                                            
  |===================================================                   |  73%
  |                                                                            
  |=========================================================             |  82%
  |                                                                            
  |================================================================      |  91%
  |                                                                            
  |======================================================================| 100%
  |                                                                            
  |=================================================                     |  70%
  |                                                                            
  |                                                                      |   0%
  |                                                                            
  |======                                                                |   9%
  |                                                                            
  |=============                                                         |  18%
  |                                                                            
  |===================                                                   |  27%
  |                                                                            
  |=========================                                             |  36%
  |                                                                            
  |================================                                      |  45%
  |                                                                            
  |======================================                                |  55%
  |                                                                            
  |=============================================                         |  64%
  |                                                                            
  |===================================================                   |  73%
  |                                                                            
  |=========================================================             |  82%
  |                                                                            
  |================================================================      |  91%
  |                                                                            
  |======================================================================| 100%
  |                                                                            
  |========================================================              |  80%
  |                                                                            
  |                                                                      |   0%
  |                                                                            
  |======                                                                |   9%
  |                                                                            
  |=============                                                         |  18%
  |                                                                            
  |===================                                                   |  27%
  |                                                                            
  |=========================                                             |  36%
  |                                                                            
  |================================                                      |  45%
  |                                                                            
  |======================================                                |  55%
  |                                                                            
  |=============================================                         |  64%
  |                                                                            
  |===================================================                   |  73%
  |                                                                            
  |=========================================================             |  82%
  |                                                                            
  |================================================================      |  91%
  |                                                                            
  |======================================================================| 100%
  |                                                                            
  |===============================================================       |  90%
  |                                                                            
  |                                                                      |   0%
  |                                                                            
  |======                                                                |   9%
  |                                                                            
  |=============                                                         |  18%
  |                                                                            
  |===================                                                   |  27%
  |                                                                            
  |=========================                                             |  36%
  |                                                                            
  |================================                                      |  45%
  |                                                                            
  |======================================                                |  55%
  |                                                                            
  |=============================================                         |  64%
  |                                                                            
  |===================================================                   |  73%
  |                                                                            
  |=========================================================             |  82%
  |                                                                            
  |================================================================      |  91%
  |                                                                            
  |======================================================================| 100%
  |                                                                            
  |======================================================================| 100%





pamt10

 

<-

 

bamm

::

csim2pam

(

community_sim 

=

 

sdm_comm

 ,
                        which_steps 

=

 

10

)




pams

 

<-

 

bamm

::

csim2pam

(

community_sim 

=

 

sdm_comm

 ,
                       which_steps 

=

 seq_len

(

10

)

)




rich_pam

 

<-

 

bamm

::

pam2richness

(

pams

,which_steps 

=

 c

(

1

,

5

)

)




#>

 
  |                                                                            
  |                                                                      |   0%
  |                                                                            
  |===================================                                   |  50%
  |                                                                            
  |======================================================================| 100%
print

(

rich_pam

)




#>

 class      : RasterStack 


#>

 dimensions : 75, 112, 8400, 2  (nrow, ncol, ncell, nlayers)


#>

 resolution : 1, 1  (x, y)


#>

 extent     : -168.1667, -56.16667, 8.166667, 83.16667  (xmin, xmax, ymin, ymax)


#>

 crs        : +proj=longlat +datum=WGS84 +no_defs 


#>

 names      : time_step_1, time_step_5 


#>

 min values :           0,           0 


#>

 max values :           1,           3 


#>

 


# }